IndustriALL campaign pushes H&M withdrawl from Myanmar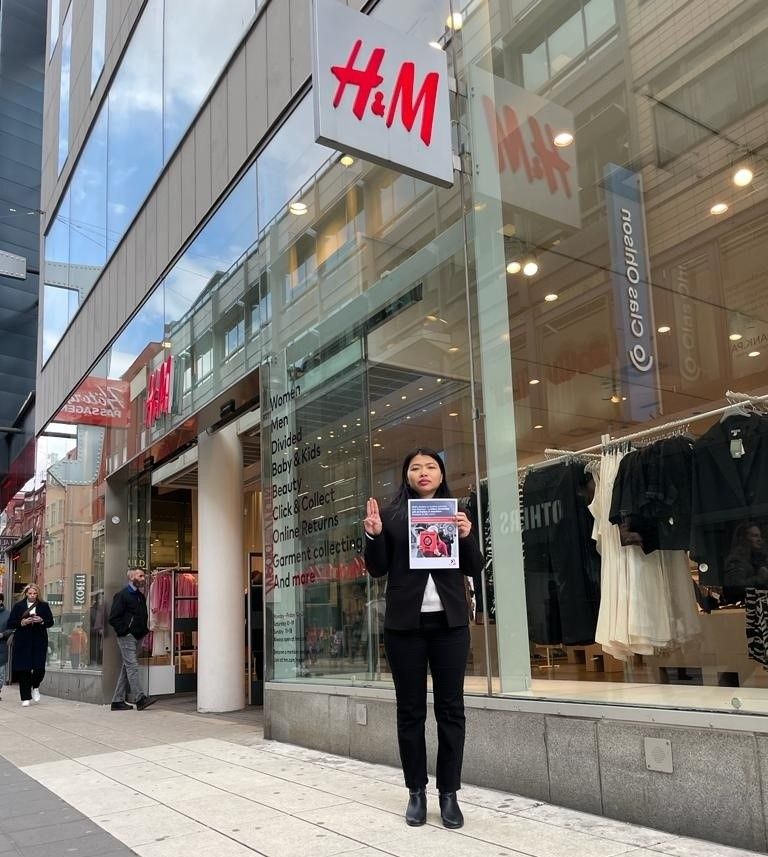 On 16 August H&M, the world's second biggest retailer, announced that it has decided to gradually stop sourcing from Myanmar, as reports of labour abuses in garment factories in the country increase.
The company said that it was investigating 20 alleged instances of labour abuse at Myanmar garment factories that supplied it, as a UK-based campaign group said cases of alleged abuses including wage theft and forced overtime had multiplied since the military coup in February 2021.

IndustriALL strongly condemns the coup d'etat by the military in Myanmar and has been working with affiliated unions in Myanmar to protect workers' rights until democracy could be restored. IndustriALL has also been campaigning tirelessly for brands to safely disinvest from the country.

At the Third IndustriALL Congress in September 2021, 434 trade unions from 111 countries unanimously adopted a resolution in support of democracy in Myanmar. The resolution calls for comprehensive economic sanctions against the military junta.  Human rights violations in the country make it impossible to trade ethically, because companies are not able to guarantee the safety of their workforce. In 2022 an independent report confirmed that it was impossible to practice due diligence in a military dictatorship.

In November 2022 IndustriALL began discussions with several garment brands, with operations in Myanmar to outline what a responsible exit would look like. This discussion concluded with Framework Principles of a Brand's Responsible Business Disengagement from Myanmar.
This document is not a commitment by these brands to cease their operations in Myanmar, but an agreement on what would constitute a responsible exit.
The framework outlines a business exit negotiated with workers' representatives that ensures that the rights of workers are protected, adequate severance is paid to those affected, and ensures that cases of workers' rights violations that are still pending, will be remediated. Although the framework was developed by the garment industry, its principles can be applied to other sectors of the economy.
The Swedish fashion giant's ESG record is better than many of its peers and the company's responsible business practices has cemented a constructive relationship with IndustriALL however it has raised concerns about why the company refused to stop sourcing from the country. At H&M's AGM, in May, IndustriALL questioned the retailer about their continued operations in the country.

IndustriALL general secretary Atle Høie says:
"H&M finally realized that it is not possible to do business in Myanmar without trampling on basic trade union and human rights. IndustriALL will continue its campaign until all major brands do the same. We must never put profits above worker rights."
Marie Nilsson, IFMetall president, says:
"H&M leaving Myanmar is good news. They have done as we and our global federation, IndustriAll Global union demanded. Human and trade union rights must be respected worldwide and sadly this is not the case in Myanmar."